The studio moved to France in 2008
One and two man exhibitions - include Salford Museum, Oxford Gallery, Bohun Gallery, Manchester Royal Exchange, Bolton Gallery, Hastings Museum; Galleries Jas, Polder, Petit, de Beerenburght and Van Hulsen in Holland; Galerie Aablegaarden, Copenhagen; Graffiti Galleries in London, Norway and Sweden; Paperworks, Vancouver.
Collections include - The Victoria and Albert Museum, Bolton Museum, The South London Art Gallery, British Gas, The Towner Gallery, Hastings Museum, The British Council, Harvard University, West Australia Art Gallery, Leeds City Art Gallery, Ohio University, J Walter Thompson Collection, Rymans Collection, Helen Sheene Ltd, N K R Kopenhamn, The Newcombe Library Chicago.
Commissions - for Bovis and Texas eastern Oil and various illustration work including the jacket designs for 'The White Hotel' and other books by D M Thomas.
Publications - Illustrated 'The Fairy Tales of Charles Perrault' in collaboration with Angela Carter, and 'Goblin Market' by Christina Rossetti for Gollancz. Illustrated 'Rimbaud' and 'Lord Thomas and Fair Eleanor' for the World's End Press.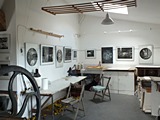 Recent
Musée Raymond Lafage
Triennale de gravure en taille-douce de Lisle-sur-Tarn
Solo exhibition
at the Chateau de Mauvaisin

Exhibition with Matt Hilton
at the Lèran Gallery
Estampadura Trienalle Pamiers
Solo exhibition
at the Chateau de Trets - Provence
Solo exhibition at
Les Pujols Bibliotèque